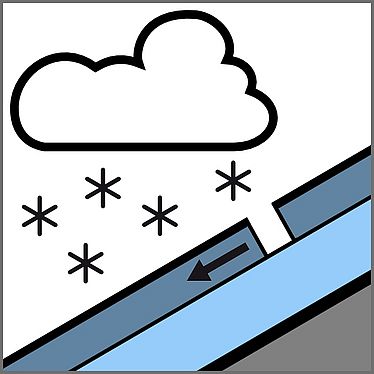 Current snowfall or fresh snow that fell recently.

Main influencing factor: Critical amount of new snow, which depends on several factors, such as temperature or properties of the old snow surface.
Mostly widespread and in all exposures.
Dry slab avalanches
Dry loose snow avalanches
Spontaneous and artificial triggering
During the snowfall until a few days afterwards.
Additional load from snowfall on existing or newly formed weak layers.

Lack of connection between the fresh snow crystals.
Mostly at the transition to the old snow surface
Within the fresh snow layers
Deeper in the old snowpack
Relatively easy to recognize:

Note the critical amount of fresh snow and fresh avalanches.

Please note that small changes in the weather (e.g. changes in humidity) can significantly change the fresh snow conditions.
Wait until the fresh snow stabilizes.

Above all, pay attention to the risk of being dragged along and falling on extremely steep terrain.